Alice Lloyd College is a private, four-year, co-educational, non-denominational, liberal arts college operating on Christian principles.  It is one of only seven work colleges in America, and it is one of only three of the work colleges to guarantee the full cost of tuition.  In addition to providing our students with a bachelor's degree, the College also financially assists its alumni at post-graduate schools through our Caney Scholars Program (we have 63 alumni participating in the Program this year).  No other school in the United States is as committed to its students as is Alice Lloyd College.
Alice Lloyd College focuses on low-income and first-generation students; so, the majority of our students come from low-income families.  More than fifty percent of our incoming freshmen this year qualify for PELL Grants, and 28% reported annual family incomes below $3,000.  In our 2017 graduating class, 57% of our graduates indicated that they were the first in their families to receive a bachelor's degree.
The College neither solicits nor receives direct support from the federal, state, or local government and must rely on private gift income.   Thanks to foundations like the Snowy Owl Foundation, Inc. which have helped provide scholarships for needy students, young people who just possibly might not have been able to receive a higher education due to financial difficulties are given an opportunity to improve the quality of their lives.  Too, the Foundation's grants for our general operations, and most recently toward furnishings for our new Campus Center which is currently underway, have helped the College to move forward in its efforts to meet the ongoing needs of our mountain youth. Through the Foundation's support, we have been able to offer our students a character-based education and prepare them to compete with the best as they seek employment in their fields.  Our region has benefited strongly, and will continue to do so, from the services and leadership our graduates will/and have provided in their communities.  Thanks to Foundations like the Snowy Owl Foundation, Inc. who help to make our work possible.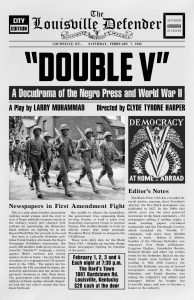 Thanks to the generous support of Snowy Owl Foundation, Cisco Montgomery Inc., a theatre arts 501c3, kicks of Black History Month 2018 with a double bill of riveting African-American dramas. They are:
"DOUBLE V", a docudrama based on the life of Louisville Defender publisher Frank Stanley, involves a crusading black newsman during World War II who helps persuade President Harry Truman to desegregate the US military.
DERBY MINE 4 addresses safety concerns relevant to the Kentucky Darby LLC mine disaster near Harlan that left five miners dead in 2006 and features an African-American miner, rare in today's coal industry, who rescues colleagues trapped underground by a methane explosion.
There are four performances with an audience of around 200 people, and here is how the project impacts the broader community.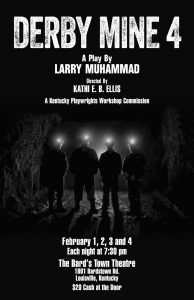 ECONOMIC: Employ 15 people as private contractors, making community theatre more accessible and inviting by paying creative talent to participate and develop skills requisite to professional stage work as part of the arts career pipeline in Louisville.
DIVERSITY: Partnering Cisco Montgomery Inc. (also dba Kentucky Black Repertory Theatre), which mounts urban-themed plays and puts African-American Bluegrass history on stage, with mainstream Highlands venue The Bard's Town, cross-pollinates audiences, broadens the appeal of theatre and exemplifies the diversity and inclusivity that strengthens Louisville community.
EDUCATION: The plays engage, amuse and delight but also educate audiences, teaching the important war-time history of the African-American press ("DOUBLE V") and reflecting on contemporary mining life as the coal industry declines (DERBY MINE 4).
The charitable contribution from Snowy Owl Foundation makes this all possible.
Impact of the 2016 Snowy Owl Foundation Grant to Louisville Story Program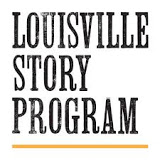 Thanks to the support of the Snowy Owl Foundation, we were able to add staff capacity (a 15 hour/week administrative assistant). This expanded capacity enabled us to:
Plan and implement our first-ever fundraising event, a write-a-thon

Raised $17,000 from 350+ unique donors
Vast majority of donors were first-time donors (i.e., supporter base and mailing list were meaningfully expanded)
Developed fundraising event model that we can and will use every year moving forward

Transfer our donor and mailing list information into Sales force, one of the top constituent relationship management programs in existence

Will help us manage our relationships with our supporters much more effectively moving forward, ultimately translating into more support

Improve our systems for managing book orders, donor acknowledgment letters, and mass mailings
Free up full-time staff members to do more high-level planning/strategy, increase the amount of programming we offer, and cultivate more relationships in the community
Sustain employment of the admin we hired beyond the grant period
Less than 10 months into 2017, have already secured 20% more in funding commitments than we received in all of 2016.
Select Louisville Story Program 2017 highlights:
Received 2017 Arts Innovation Award by the Fund for the Arts.
Received two national awards by the American Association for State and Local History: an Award of Merit in the Civic Engagement category (one of four awardees) and the History in Progress Award (one of two winners across all categories). In the 70+ year history of AASLH, LSP is the first Kentucky-based project to receive a History in Progress Award.
Developed LSP's first strategic plan with board, staff, and a professional facilitator.
Published our fourth book, Available Light: Louisville Through the Lens of Bud Dorsey. Over 400 people attended the book launch celebration.
Partnered with the Muhammad Ali Center to create an exhibit of Bud Dorsey's photographs as a companion piece to the book. The exhibit is part of the 2017 Photo Biennial and will hang at the Ali Center through Jan. 2, 2018. The exhibit will subsequently hang at Louisville Free Public Library (main library) in 2018.
Kentucky by Design: Material Culture, Regionalism, and the New Deal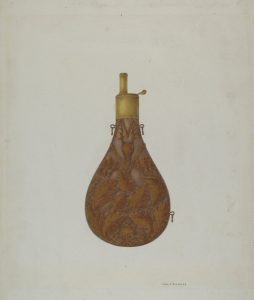 Due in large part to the generosity of the Snowy Owl Foundation, the Frazier History Museum was honored to Present Kentucky by Design: Material Culture, Regionalism, and the New Deal from August 4, 2016, through February 12, 2017. The exhibition celebrated the 80th anniversary of the Federal Art Project's Index of American Design, part of President Franklin D. Roosevelt's Works Progress Administration (WPA)/Federal Art Project during the Great Depression of the 1930s. Over 400 artists were provided desperately-needed work by documenting the American material culture of the 1800s in watercolor renderings.
Kentucky artists contributed more than 200 watercolors documenting decorative and folk arts found throughout the States. The exhibition, Kentucky by Design, showcased 20 original watercolor renderings and 17 facsimile renderings of decorative and material culture objects from Kentucky, paired with 86 objects and artworks depicted in the Index. The cost of attaining and presenting the 20 original watercolors from the National Gallery of Art in Washington, D.C. was made possible due to the outstanding support of the Snowy Owl Foundation.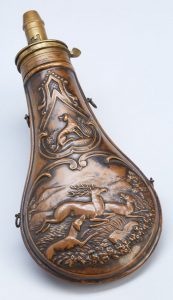 The Frazier views the exhibition, Kentucky by Design: Material Culture, Regionalism, and the New Deal, and its award-winning companion catalogue, Kentucky by Design: The Decorative Arts and American Cultures, as transformational steps of embracing its vision of becoming where the world meets Kentucky by examining the Index of American Design through a local lens. And, with its dedicated focus on decorative arts, the Museum can now position itself as a relevant scholarly cultural institution, demonstrating its strong commitment to regional art, culture, and history.
We are deeply appreciative of the Snowy Owl Foundation for making the exhibition a reality. Thank you for your vital support for this transformational project and your ongoing investments in our community, its art, culture, and people.